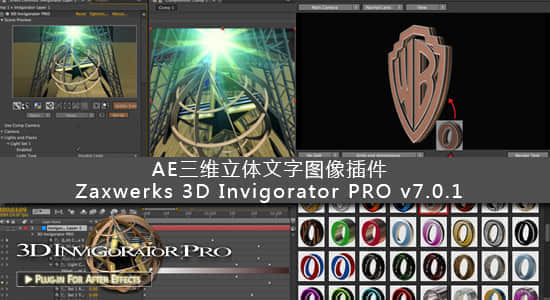 【插件介绍】
Zaxwerks 3D Invigorator PRO是AE的一款真实3D插件,支持快速渲染。
可以快速创建漂亮的三维模型(支持3D模型导入),拥有多种材质和3D光晕
插件具有强大的独立完整界面,能和AE很好的互通。
支持软件(Mac OSX):
After Effects CS6 或更高版本
3D Invigorator PRO is the world standard for creating keyframe style title and logo animations directly inside of Adobe After Effects.
The software is made to feel familiar so you can learn it quickly and be productive right away. It uses After Effects keyframes to do animations so if you know how to keyframe in AE you already know how to animate in 3D Invigorator PRO.
See the Product Details for more information or add the software to your cart to get started.
• NO ROUND-TRIPPING! STAY 100% INSIDE OF AE
• RAY-TRACE REFLECTIONS AND REALISTIC SHADOWS
• EASY MODELING WITH CUSTOM BEVELS
• IMPORT OBJECTS FROM OTHER 3D PROGRAMS
• 3D STAGE LIGHTING WITH TRUSSES, FIXTURES, AND LIGHT BEAMS (NEW)
• 200+ FREE MATERIALS (NEW)
• GORGEOUS 3D LENS FLARES (NEW)
• BEND, TWIST AND DEFORM ANY 3D OBJECT
官网:http://zaxwerks.com/invigorator_pro/
【插件下载】 
Mac版:AE真实三维立体制作插件 Zaxwerks 3D Invigorator PRO v8.5.2
【其他相关】
Win版:AE插件:真实三维立体制作插件 Zaxwerks 3D Invigorator PRO v8.6.0
Version 8 – Major Release
Compatible with Windows Vista, Windows 7, Windows 8
Compatible with OX 10.7 or above and Intel Mac Only
Compatible with After Effects CS6 – After Effects CC 2014
Real-Time Rendering

Optimized OpenGL and Ray-Traced Renderer- Our Open GL and Ray Trace Renderer is now faster than ever! Create hundreds of thousands of polygons without having to worry about slowdown. Everything updates in real-time with texturing, lighting and shadows.
Auto-Rendering- With Auto-Rendering, whenber you make any changes the scene automatically renders. No need to keep having to click the Render Test button to see what your objects look like.

Depth of Field – Use Depth of Field to create highly realistic images where some objects are in focus while other objects are out of focus.
Instancing: Instanced Objects – With instanced objects, the program automatically duplicates as many objects as you want without slowing down the program. These objects can than be distributed using the distribution tools.

New Distribution Types – Use new distribution tools such as assigning your objects to take on the shape of a different object, or other simple shapes such as cubes, spheres and more.
Materials – Apply the same material or different materials to the instanced objects.
Randomization – Use our randomize controls to place objects in random positions instead of scattering objects one by one.
Instanced Text- With instanced text, you can set the text to be instanced by character, word, or paragraphs. This lets you distribute walls of text to create amazing text backgrounds quickly and easily.
Normal Maps

Applying Normal Maps – Our Material Editor gives you the ability to load either a noraml map or bump map to create realistic effects.
Realistic Material Presets – Our material presets have been re-edited with normal maps for ever more realistic effects for your objects.
New Lighting Controls

Image Based Lighting – Apply Image Based Lighting for highly realistic lighting effects for your scene.
Shadow lights – Create a light that doesn't affect your scene, but has the ability to cast shadows.
Note: Wireframe and hidden line rendering styles are no longer supported. If you have any old projects that are using wireframe or hidden line rendering, the material will render as a solid color instead. You may use the Grid Shader as an alternative for Hidden Line rendering.
More info: http://zaxwerks.com/invigorator_pro/details.shtml